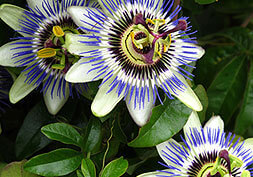 Blue passion flower is responsible for an array of positive benefits that can promote overall health and well-being. This herbal extract has been used for years to treat conditions including anxiety, insomnia, epilepsy, restlessness and high blood pressure.
While Blue Passion flower has been commonly referred to as a sedative, it is actually more effective in the role of anxiety reduction. This herbal extract calms muscle tension without affecting the respiratory rate of the person taking the herb. Other synthetic chemical sedatives affect the rate of respiration, in contrast to Blue Passion Flower. With no known negative side-effects, Blue Passion Flower doesn't lead to impotence, unlike other traditional sedatives. Rather than contributing to impotency, the extract of Blue Passion Flower provides the user with a feeling of relaxation and higher levels of testosterone, making it the perfect ingredient to enhance sexual performance.
By reducing the anxiety associated with premature ejaculation, the inclusion of Blue Passion Flower in PrematureX, allows men to focus on the sexual experience, rather than their own fears of inadequacy.